The 2023 Sessions are finalized! Register to join us on March 18, 2023: https://www.eventbrite.com/e/2023-northwest-ohio-teen-book-festival-tickets-396167245897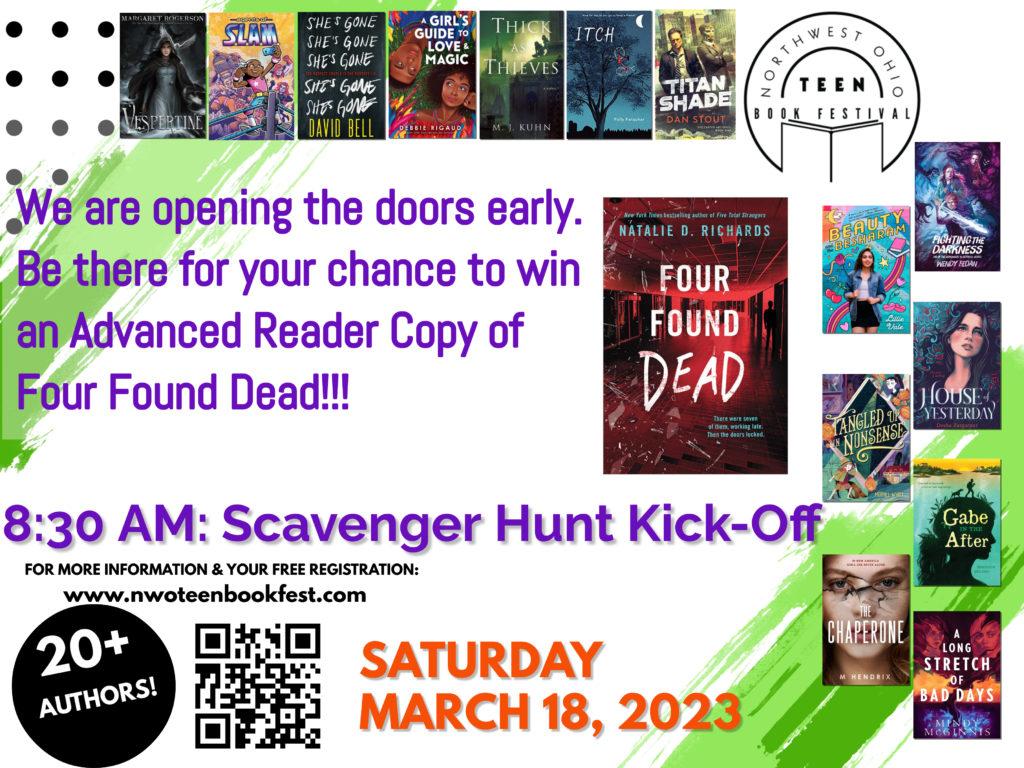 8:30 a.m.
Doors Open & Scavenger Hunt Begins
9:30 a.m.
Keynote Doors Open
9:45 a.m.-10:40 a.m.
Author Introduction & Keynote by Natalie D. Richards
10:50 a.m.-11:30 a.m.
Session 1
11:40 a.m.-12:20 p.m.
Session 2 (Lunch 1)
12:30 p.m.-1:10 p.m.
Session 3 (Lunch 2)
1:20 p.m.-2:00 p.m.
Session 4 (Lunch 3)
2:00 p.m.-2:30 p.m.
Fun & Prizes
2:30 p.m.-3:30 p.m.
Authors' Alley Book Signing
Ongoing Sessions (offered all day)
Board Games
Scrabble! Scattergories! Sorry! Join your favorite authors in friendly competition.
Escape Room
Can you rescue Alice?
Book Selling
After attending a session, is there a book you must have? Stop by the festival book store all day.
Lunch
Lunch will be available for all, and for free starting at 11:40 am.
(click for more details)
Teen poets will compete for prizes in the Teen Book Fair Poetry Slam, a competition of original performance poetry where the audience members are the judges. Each poet gets up to three minutes to perform their original poetry. Audience members will give each poet a grade of 1 to 5, and the poets who average the highest scores will win top spots and prizes. Hosted by Lucas County Poet Laureate, Jonie McIntire as well as various award-winning poets from Northwest Ohio, who will read their original work.
How Do Books Get Translated
How does it get decided that a book will be translated? Does the author contribute to the translation? How do you know it is correct? Three authors share their experience with their books being translated.
Creating Characters
Join cartoonist Scoot McMahon in this hands-on, interactive workshop that will immerse you in storytelling and art. Attendees will create characters and story ideas.
Ways to Get Published
There's a world outside the mainstream publishing industry, and it's ripe with new talent. How do authors manage the creation, execution, and promotion of their literature? Learn about this exciting industry from the authors!
Tough Stuff
Opiate addiction. Abuse. Anxiety. What's the secret to writing about tough, resonant topics? In this author roundtable, writers share their strategies for keeping real-life problems manageable and relatable.
How to Pitch Your Idea
Do you have an idea for a book, a story, a series? How do you "sell" or pitch it to an agent, editor, publisher or reader? Get advice from published authors. You may want to follow up this session by attending Elevator Pitch Wars in the next session.
Hugs and Kisses
Romance isn't that sappy, is it? Join our panel of authors to learn about how they write romance into their novels in a believable and enjoyable way!
(click for more details)
So you have a book, a story or even a poetry idea? Come give us your 60 second elevator pitch – compete against (or watch) your peers. Up to three winners will be able to submit a very short proposal or draft to an author for feedback. (Psst. . . attend the workshop earlier for help crafting your pitch!)
Collage Poetry
Combine visual art and poetry through found wording, black out poems, drawings, stamps and more in exciting poetic collages. Incorporating ideas of visual poetry by artists like Joel Lipman, Linda Zacks and more.
How to Create Suspense in a Novel
Pulse-pounding action sequences, jump-in-the-dark scares, cliffhangers: how do authors keep the pages turning? Five masters of craft share their writing processes and how they craft suspense in their young adult novels.
How To Draw Another's Idea
How do cartoonists & illustrators put another author's ideas into images? As an author, how do you trust a cartoonist/illustrator to depict your ideas?
What's It Like to Win An Award
What does it feel like to find out that your book is nominated for an award? What does it feel like to win? Does it change anything, other than your Bio?
Finding the "Write" Words for Your Story
Do you struggle to find the right words for your own writing? Maybe you just don't know where to start. Join JustWrite Ohio in an exercise that explores the power of words, the dictionary, and creating a short story or poem you can be proud of.
Fantastic Worlds
Imaginary lands, epic quests, spell-binding magic, and supernatural creatures. Fantasy & science fiction authors are known for their creative world-building. This panel discussion will unlock the secrets of the trade: keeping readers immersed in a world other than their own.
Middle Grade Literature
How is writing for middle grade audiences different from writing for young adult audiences? How do you get in the head of a middle schooler? Join our panel of middle grade authors as they share some of their strategies and writing tips
Board Games With Authors
This is your opportunity to hang out and play board games with authors. Are you Sorry? Will there be Trouble? Come visit Candyland. How about Chutes and Ladders? Do you Uno? Write Poetry With Neanderthals?
How to Write About Health Issues
How do authors depict health issues with truth, sensitivity, and seriousness without letting it take over the story and be a drag?
Writing for Adults & Teens
YA as a genre also contains all of the genres adult literature contains. How do authors determine whether they are writing for an adult audience or a young adult audience? Or do they? Who makes the determination, and how? Is the act of writing for YA versus Adult audiences different?
Write Now!
Do you have what it takes to compose an excellent creative story in just one session's time? Join JustWrite Ohio and try your hand at on-the-spot creative writing, matched to a prompt and genre for your chance to win an Amazon gift card! The winner will be announced at the end of the day, and will have their work published on the JustWrite Ohio website!
The Real World
Falling in love. Coping with loss. Finding your true self. Young adult authors are masters at capturing how teens think and feel. Join four authors of realistic fiction to learn about how they craft realistic stories and how they use the real world as part of the story.
Creating a Mystery
How do authors create a great mystery? Do they plot it out ahead of time? Do they know whodunit before they start writing? Do they ever get it wrong and have to change plans?
Putting Faith in Your Writing
How do authors include faith in their novels? Do they get pushback from publishers or readers for doing so? Do they write about the religion they practice or include others?
How to Break a Reading Slump
Are there moments when you just don't feel like reading? When reading feels less fun and more like a chore? How do you power through that feeling and recapture the joy of words? Our authors weigh in with some ideas of their own!
Escape Room
Can you help rescue Alice?
Lunch
Lunch will be available in Session 2, 3, and 4 for all and for free!