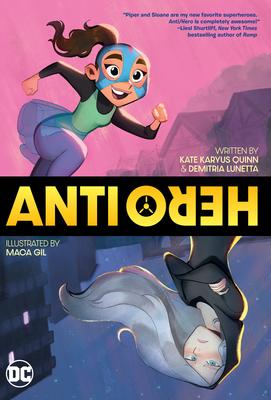 By Melissa Warner Published February 26, 2022
Kate Karyus Quinn, author of several books across various genres, especially likes to write YA because the genre has "the ability to be so experimental… Adolescence is such a great thing to write about. All the emotions are there and they're all on the surface and everything is so important. I just remember really vividly being that age." Ms. Quinn's first novel was a romance, and her second an urban fantasy. Both were for adults and neither was published. Ms. Quinn commented that "YA wasn't really a thing when I was a teenager…We grew up in the age of the 'very special episode' of [series such as] Blossom…I always felt we were being talked down to as kids." Struggling to get published as an author around the time the Twilight series was popular, she "started reading an actual YA novel and I just fell in love with what authors were doing…I was amazed that [the YA] was realistic."
This author's two most recent YA books are very different from each other, as well as from traditional novels. Not Hungry is a "book in verse." When one opens the book, one might think it is just a book of poetry. However, it is a story, written in verse format, and this story is compelling even though "it's mostly white space." The book is designed to be easy to read. The criteria was to be approximately 10,000 words and about a contemporary issue. Ms. Quinn chose this format and the topic of eating disorders. Currently, she is working on a "companion" to Not Hungry. It is another book in verse, with the same main character, but a very different topic.
Her other most recent book is a graphic novel, Antihero, co-written with Demitria Lunetta. The target audience of this book is much younger than Not Hungry, and is kids in 2nd to 7th grade. The story is most obviously about girl power, but is also a "great story for teaching empathy and walking in someone else's shoes." The origin of this story stems from when the two authors met, debut authors of the same publisher in 2013, and quickly became friends. Ms. Quinn stated she wanted to write the villain in this "Freaky Friday type" story, and reached out to Ms. Lunetta to write the hero. The story sat for a few years while "life happened" to the authors. Then, an opportunity to pitch ideas to DC [Comics] came up and while Ms. Quinn was admittedly pessimistic ("I expected it to be a disaster."), Ms. Lunetta was more daring (and did eventually say "I told you so."). Describing co-authoring, Ms. Qinn commented: "It's an ongoing joke with us, we bicker a lot," even "over plotting and different story things…We joke that we're not healthy but it is healthy because we argue productively and we don't get mad and we ultimately always come to a vision that we're both happy with and that I think makes our writing better." Covid greatly affected the marketing, sales and so forth of Antihero. Many opportunities to show the book and meet and introduce it to readers were missed. During the pandemic, like so many others, Ms. Quinn struggled with feeling shut in, lower energy levels, and missing the "chance to go out in the world." However, Ms. Quinn is also currently working on another graphic novel with Ms. Lunetta, and is a "spinoff" of Antihero.
Discussing the differences between writing a graphic and traditional novel, Ms. Quinn stated that they are "super different." This author has a background in film and writing screenplays. Writing a graphic novel is "very much like writing screen plays because you have to really think in a very visual way, and really see the story. You have to think about how the visuals are telling part of the story because the words are only a chunk of the story. It was so fun and really cool thing to visualize it and see different images…Then when they come alive and the artist starts drawing them, it just blows you away how much more amazing it is than you thought it would be!" "The words were almost like poetry, you nitpick the words so much. It really makes you be economical with your words and choose the best ones and the punchiest ones to get the most bang for your buck."
The Show Must Go On, a romantic comedy, is also recently published, and is Ms. Quinn's first published adult book. Making the switch between YA and adult books was not difficult, especially since it is a romance – "that's the type of book I like to read a lot." She said "I get excited when I read something I love – I think oh my gosh I want more of this." You, reader, would go to the library or your local independent bookstore and get another book. Yet, talents such as Ms. Quinn, just go and write their own! Ms. Quinn said "I want to write something that's fun and that makes people feel good and isn't so fluffy that there's nothing to it. I wanted to find that mix of drama but also a fun, feel good type of read."
Having written YA, middle grade, adult, romance, a graphic novel, and a book in verse, Ms. Quinn has no favorite genre – "it's like asking which kid is my favorite. I got something out of writing all of them. Just like when you're reading you're in the mood for this one thing and then you're in the mood for something else. [As a writer, you] get, not bored, but you want to try different things. You don't want to keep repeating the same thing over and over. It's exciting to break into new areas and try different things and to see how it goes and if it works." She has been co-authoring (including with other festival attendees Mindy McGinnis and Demitria Lunetta) a few series taking place in the "mythverse." These books are more geared to online ebook readers. She hopes to write another gothic book and has ideas on an "adult novel that's less romance and more of a family comic drama."
Many authors describe their characters talking to them as part of their creative writing process. Ms. Quinn's characters do not speak to her, but "I definitely get a sense of their voice in my head. A lot of times if I'm writing at night and then I go to take a shower, suddenly I'll have this whole conversation between the two characters going on in my head… I'll hear the voice of them, how they speak and how they talk." Second oldest of five sisters, this author "gravitates more towards female characters…I've always loved girl stories. Even as a kid I would pick up a book with a girl on the cover." Although she has written few male characters, she does not believe she would struggle to write in a more key male character.
With several published (as well as several unpublished) books, Ms. Quinn believes that rejection is "just part of the business." Only partly joking in describing her coping/self defense technique, she said "you have to tell yourself…'what do they know?'" When asked about misconceptions of authors, Ms. Quinn first stated that people think being an author "is more lucrative than it is." She also added that "it's much less glamorous than people think. It's hard to make a living doing it, but it's also great to have a job where you can have a spirited discussion about whom to kill off!"
Even as a little girl, Ms. Quinn wanted to be an author. In the second grade, she and her best friend wrote or drew books or murals. "Our plan was that we would be famous authors and we would live in California in a gigantic mansion – we wanted to keep things modest." By the age of 15, she was still writing, but acting played a more prominent role in her life. Her primary high school activity was the theater. When asked what she knows now that she wished she had known as a teenager, Ms. Quinn cited that "Having an idea to be a famous actress with writing as my backup career is not a practical idea. One of your dream careers needs to be the practical one, you can't have two impractical careers as your main goal and your backup." Fortunately for her, her writing career bleeds into her other career as a mother as her kids do read her youth work, with one especially loving graphic novels!